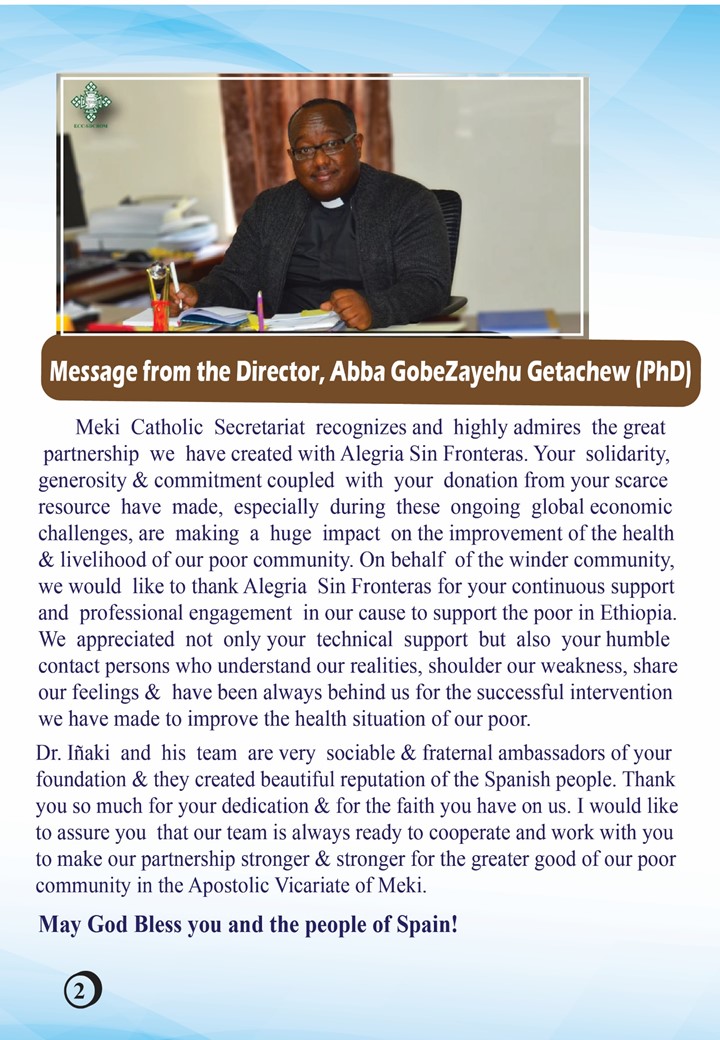 Mensaje del Director Abba Gobezayehu
Meki Catholic Secretariat recognizes and highly admires the great partnership we have created with Alegria Sin Fronteras. Your solidarity, generosity and commitment couple with your donation from your scarce resource have made, especially during these ongoing global economic challenges, are making a huge impact on the improvement of the health and livelihood of our poor community.
On behalf of the winder community, we would like to thank Alegria Sin Fronteras for your continuous support and professional engagement in our cause to support the poor in Ethiopia.
We appreciated not only your technical support but also your humble contact persons who understand our realities, shoulder our weakness, share our feelings and have been always behind us for the successful intervention we have made to improve the health situation of our poor.
Dr Iñaki and his team are very sociable and fraternal ambassadors of your foundation and they created a beautiful reputation of the Spanish people. 
Thank you so much for your dedication and for the faith you have on us. I would like to assure you that our team is always ready to cooperate and work with you to make our partnership stronger and stronger for the greater good of our poor community in the Apostolic Vicariate of Meki.
May God Bless you and the people of Spain!
Contexto del Meki Catholic Secretariat
The Ethiopian Catholic Church Social and Development Commission Branch Office of Meki is one of the 13 th branch offices coordinated by the Ethiopian Catholic Church Social and Development Commission (ECC-SDC).
It manages it's functions through the Meki Catholic Secretariat (MCS) which has been operational since 1995 for responding to the critical demands of the community around and it's vicinity.
The secretariat is composed of tho wings namely the Pastoral Coordination Office of Meki (PACOM) and Social Development Commission Brach Office of Meki (SDCBOM) located in Meki town.
The working area of the Ethiopian Catholic Church Social Development Commission Branch Office of Meki (ECC-SDCBOM) covers:
60250 km2

3.7 million of population

1.4 million direct beneficiaries
ECC-SDCBOM office has established three sub-offices namely Asela, Shashemane and Meki to closely deliver its service to the community. Moreover, the office has nine field offices and nine operational woredas.
ECC.SDCBOM development plans are used to mobilize joint efforts to support Integral and Holistic development of human persons through as Agriculture and Food Security, Youth and Geneder Empowerment, Water Sanitation and Hygiene, Education and Training, Health and Nutrition and Insitutional Capactiy Building.
In the year 2020, Meki Catholic Secretariat implemented:
25 projects

651311 beneficiaries

293909 female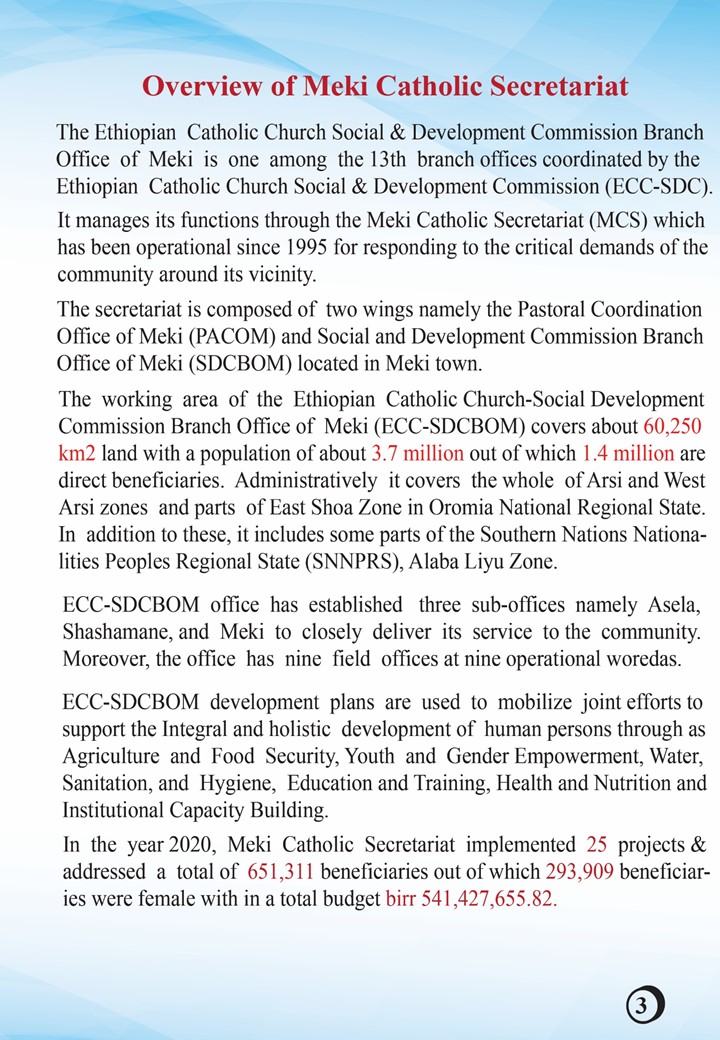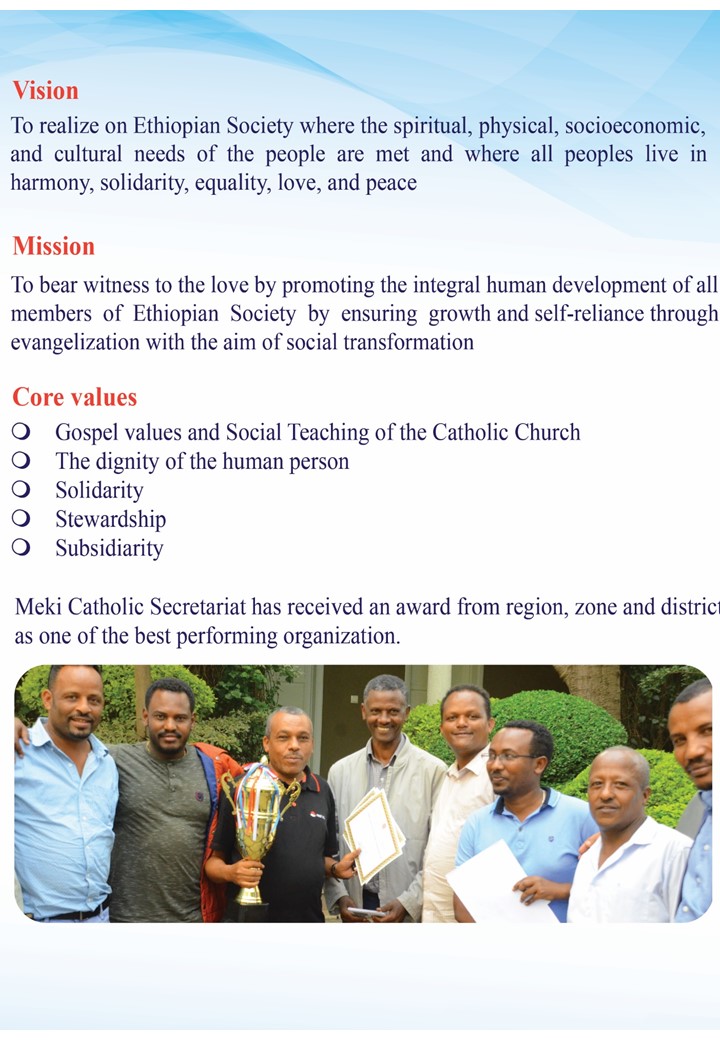 Vision:

To realize on Ethiopian Society where the spiritual, physical, socioeconomic, and cultural needs of the people are met and where all people live in harmony, solidarity, equality, love and peace.
Mission:
To bear witness to the love by promoting the integral human development of all members of Ethiopian Society by ensuring growth and self-reliance through evangelisation with the aim of social transformation.
Core Value:
Gospel values and Social Teaching of the Catholic Church

The dignity of the human person

Solidarity

Stewardship

Subsidiarity
Meki Catholic Secretariat has received an award from region, zone and district as one of the best performing organization.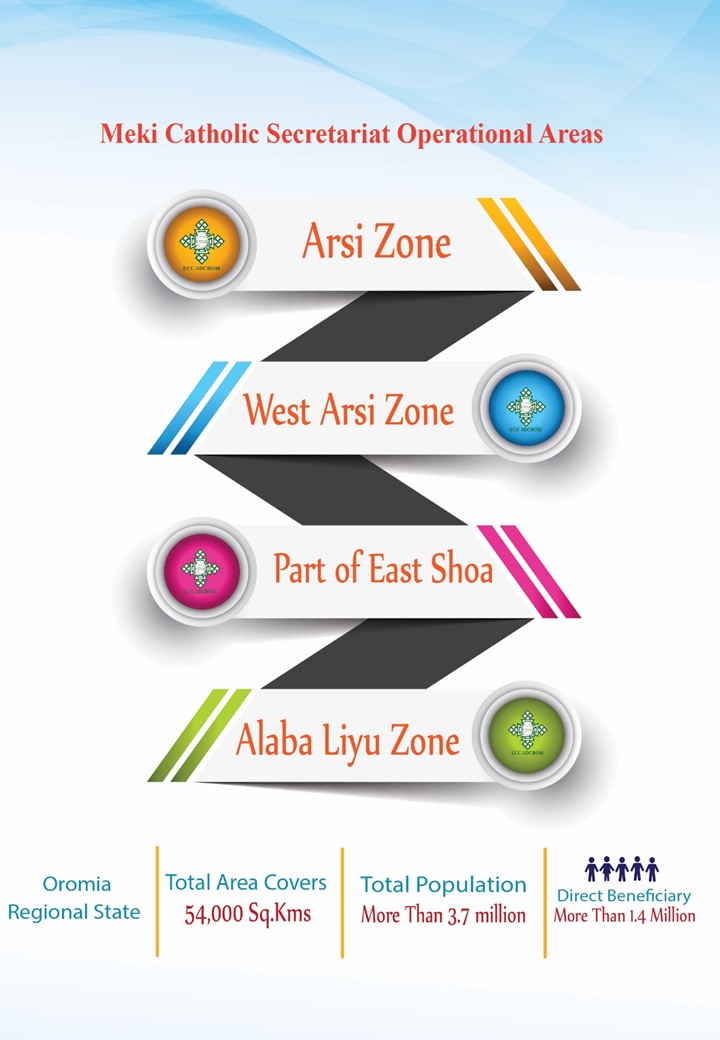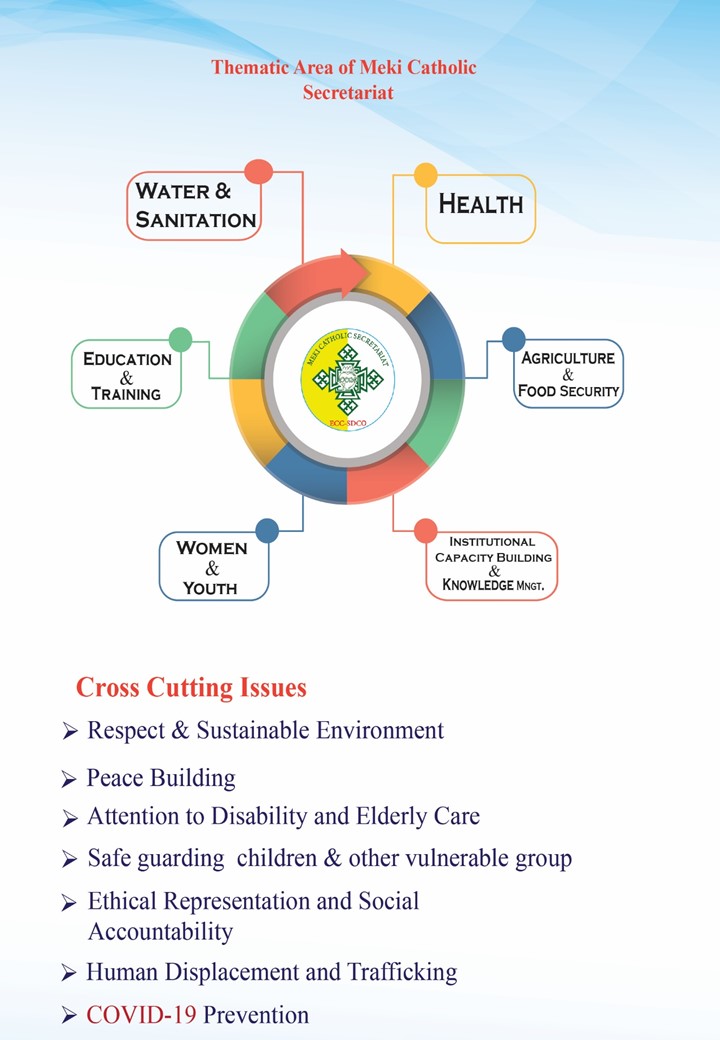 Meki Catholic Secretariat Operation Areas:
Arsi Zone

West Arsi Zone

Part of East Shoa

Alaba Liyu  Zone
Project Implementation:
Total area covered: 54 000 Km2

Total population: More than 3.7 million

Direct beneficiary: More than 1.4 million
Thematic Area:
Health

Water and Sanitation

Education and Training

Women and Youth

Agriculture and Food Security

Institutional capacity building and Knowledge management
Cross cutting Issues
Respect and Sustainable Environment

Peace Building

Attention to Disability and Elderly Care

Safe Guarding children and other vulnerable group

Ethical representation and social accountability

Human displacement and trafficking

COVID19 and other outbreak diseases prevention
Proyectos financiados por Alegria Sin Fronteras